Prices Must be Falling, Right?
Posted by Matt McGill on Wednesday, April 29, 2020 at 10:45 AM
By Matt McGill / April 29, 2020
Comment
As a follow up to our post last week on the market 5 weeks into the SIP, let's dig a bit deeper on where prices are today and what we think will happen over the next few months.
The McGill Team works with lots of buyers and sellers and we aren't cheering for prices to increase or decrease, just crunching numbers so that we can best advise our clients. Given this, following is a look at whether we are in a Buyer's Market or a Seller's Market right now, and where it looks like we are heading.
How do we determine if we are in a Buyer's Market or a Seller's Market?
In order to determine the state of the market, we need to look at the number of months it would take to sell all of the homes currently listed for sale if no new homes hit the market (months of inventory). If the number is five or less, we're in a Seller's Market. If that number hits six to seven months, our market is transitioning. Eight months or more is a Buyer's Market where price decreases are likely.
What is the state of our market today?
We ran an analysis on Sacramento County and will do the same for Placer and El Dorado Counties in the next few days. Here are the months of inventory by city in Sacramento County: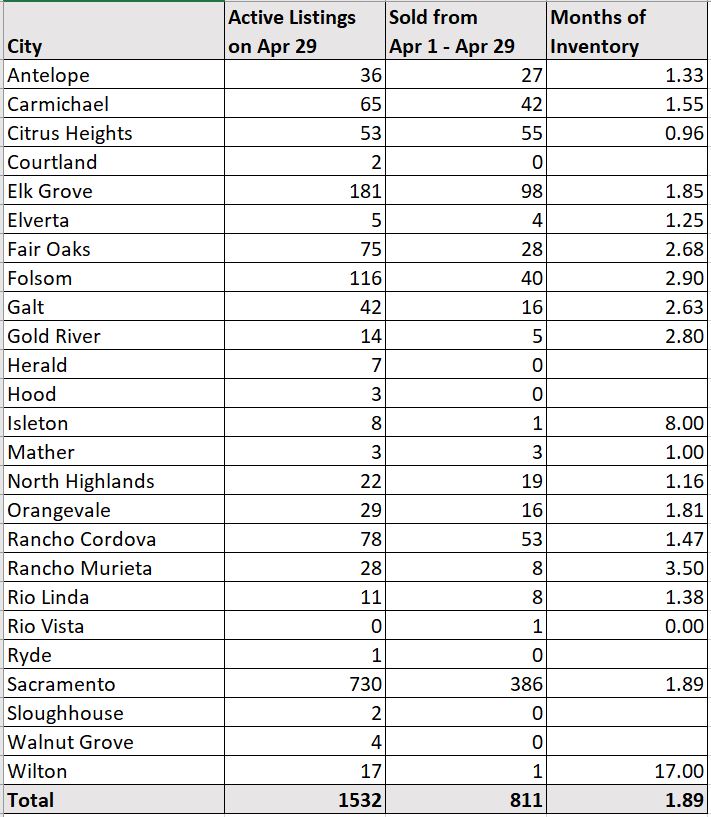 With total months of inventory at 1.89, Sacramento County is in a Seller's Market. While the number of listings, pending sales and closed sales are down significantly since the SIP, prices have held steady or increased slightly over this same time period.
The economy is in the tank, so we have to see a decrease in prices over time, right?
Well, this depends entirely on supply (inventory) and demand (buyers), and will be measured by months of inventory. Price changes lag 6 to 12 months behind inventory changes, so even if we enter a enter a Buyer's Market, prices decreases will take some time.
So, call it McGill Team! What's going to happen to prices over the next 6 months?
On last week's Market Update post, we weren't ready to predict where the Sacramento Market is heading. As more time has passed and more data is available, we are now ready to provide a Sacramento Valley market forecast for the remainder of 2020:
Inventory (Supply) - The number of homes for sale will Increase, but the market won't be flooded with new listings. Up to 80% of homeowners that are adversely affected by the pandemic have the option of mortgage forbearance for up to a year. Without the need to make payments, there will be no distress amongst this pool of homeowners and they will have a disincentive to sell.
Buyers (Demand) - While the pool of buyers has decreased due to the economy, layoffs and market trepidation, overall demand will remain strong. Especially at the low to mid price segments of the market we will continue to see multiple offers and homes selling at or above list price.
Prices - Prices will increase slightly for the remainder of the year as months of inventory will be low and we will continue to be in a Seller's Market. Prices will be further supported by decreasing interest rates and a return of lending products that were temporarily unavailable.
Please keep in mind that these are only predictions and we will continue to analyze the data and adjust our market forecast as necessary. We'd love to get your thoughts, so please reach out to us to schedule a time to talk!